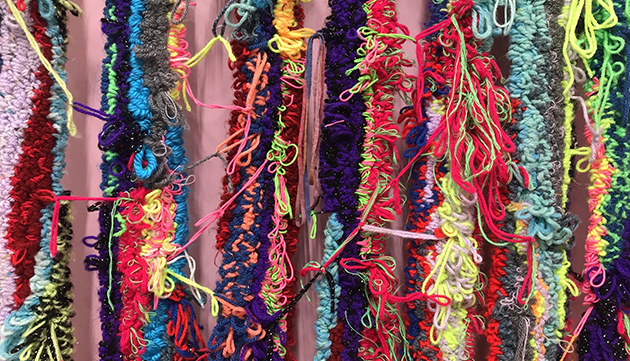 Posted on 5 November 2020
Castlefield Gallery is currently closed for exhibition changeover. Our next exhibition Obstructions was due to preview on Saturday 21 November and open to the public fully on 22 November 2020.  In line with the national COVID-19 lockdown, Castlefield Gallery will now remain closed for an extended period.
We hope to be able to preview Obstructions on Saturday 5 December, and open the exhibition to the public fully from Sunday 6 December 2020.
However, the national COVID-19 lockdown is projected to be lifted on 2 December 2020, and we will need to await confirmation from the government on that nearer the time. We will publish further information as soon as possible.
We are very sorry to be closing our doors again for an extended period. We have been delighted to see so many visitors return since reopening on 16 September 2020, and we have worked hard to make visiting Castlefield Gallery a safe, and as always enjoyable and welcoming experience.
We really appreciate your support and throughout November we will keep sharing through our windows in our spaces in Manchester as part of 50 Windows of Creativity  and in Wigan with Data Rooms as part of the Fire Within 'Year of Digital', online and on our social platforms with Peer to Peer: HK/UK, and more!

All of our artist development programmes and Castlefield Gallery Associates will continue online, and will not be impacted by the current national COVID-19 lockdown.
We look forward to reopening and welcoming you back into our galleries, just as soon as we can!
---

We need your help as Castlefield Gallery enters a further period of unplanned closure. 
Please Donate here 
Please donate to Castlefield Gallery with a one-off, or a monthly donation, to ensure we can continue our ongoing mission. Anything you can give makes a difference!
As a registered charity our work relies on the generosity of our supporters. Your donations are now more vital than ever. Please help us to ensure we can continue to work with and support artists, and our creative communities.
A range of our charitable activities that generate income have had to be put on hold, or may have to be cancelled while our buildings are closed. Unfortunately, we have been losing income because of this.
Do you enjoy regular visits to Castlefield Gallery? Does our work appeal to and benefit you? Would you like to see Castlefield Gallery be able to continue to develop and nurture artistic and creative careers across Greater Manchester, the North West of England, and nationally?
We would be so grateful if you could consider donating whatever you can to Castlefield Gallery.
We need your help now more than ever.
If you would like to contact us directly, please email info@castlefieldgallery.co.uk.
You can also follow our work online at www.castlefieldgallery.co.uk and via
Instagram
Twitter
Facebook  
Thank you for your support.
Image: Alena Donely, (She)ela (2020). Image courtesy of the artist.