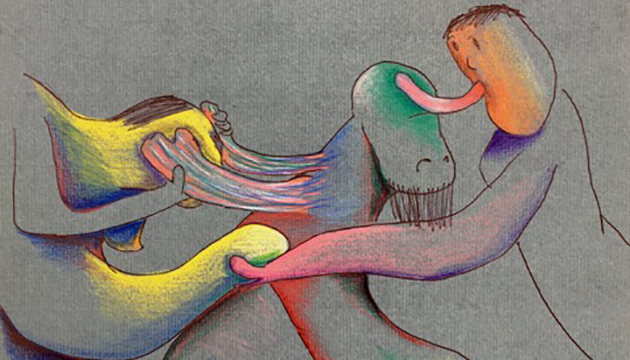 15 October 2020 / 6:00 - 7:30pm (online, via zoom)
The event will begin with an introduction to Emma Cousin's work where the artist will talk through her process, themes, materials, and in particular her relationship to drawing. This will be followed by a workshop investigating mark making, drawing and the body.
Exploring Automatic Drawing practices, used by surrealist artists, the painter Maria Lassnig and dancer/choreographer Deborah Hay, Cousin will guide participants through a process producing drawings through feeling and contemplative experiences of the body.
No previous knowledge is necessary and the workshop is suitable and adaptable for all bodies. To take part you will need some paper, preferably a large piece, or pieces stuck together, and something to make marks with – this can be a pencil, a biro, some paint or any everyday office supplies such as highlighter pens or Tipp-Ex. If you have a yoga matt and a blanket this might be useful. Comfortable clothing is recommended.
The session will end with a Q&A with Cousin, incorporating reflections on the workshop.
Cousin is exhibiting work in our current exhibition Soft Bodies.
Places are limited, £3 per booking or free for anyone on a low-income. Pre-booking is required and by no later than 12noon Wednesday 14 October. You can book here.
Image: Emma Cousin, Wiping myself with yourself, 2020.