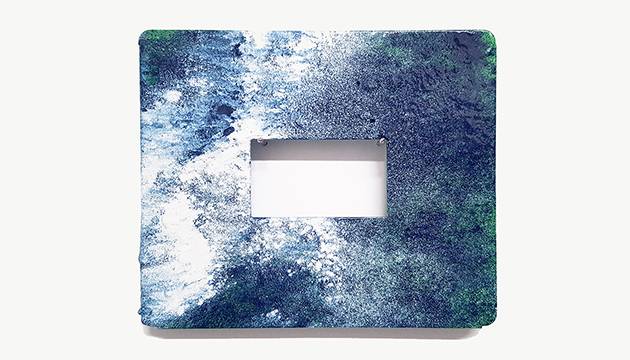 2 July 2020 — 1 May 2021
Originally programmed for July 2020, a solo exhibition of work by Nicola Ellis will open at Castlefield Gallery in March 2021. To mark the occasion of what would have been the public preview, on Thursday 2 July we are releasing: a podcast with Ellis and Matthew Pendergast (Castlefield Gallery Curator and Deputy Director) talking about Ellis's work and artist placement at Ritherdon & Co Ltd; a sound piece produced in collaboration with Manoli Moriaty and an e-publication featuring photographs and paintings by Ellis, which are available here:
     – Podcast: Anchor, Spotify.
     – Sound Piece: Incidental Rendition. Please Note: this sound piece is composed for headphone listening. Two essays by each artist which accompany the piece are available here Nicola Ellis, and here Manoli Moriaty.
     – E-publication Issuu link. See below for a downloadable pdf please note it is intended to be viewed double page.
Ellis's work includes site responsive installation, sculpture, painting, drawing, video and photography. Recent projects have seen her operating within existing workplace ecosystems; making artworks which respond to the relationships between people, materials and processes. Some works feature loaned or exchanged waste materials, which are temporarily transformed, often into large scale sculpture.
The exhibition of work by Ellis at Castlefield Gallery will mark the end of her two year placement at Ritherdon & Co Ltd: a manufacturer of steel enclosures based in Darwen, Lancashire. Following a short Art in Manufacturing (festivalofmaking.co.uk) residency in 2018, Ellis discussed continuing her placement with Managing Director Ben Ritherdon and after securing Arts Council England funding was welcomed back to the factory in February 2019. Throughout the Return to Ritherdon project she has been observing, participating in and at times disrupting the ecosystem of the factory and its associated business operations. New works and methodologies have been informed in particular by studying the application of Lean Manufacturing philosophy – a philosophy aimed at the reduction of waste in the form of time, energy or materials. 
The nature of Ellis's project resonates with the activity of the Artist Placement Group (A.P.G.). Founded in 1966, the organisation sought to reposition the role of the artist within a wider social context, including government and commerce. A.P.G material at Tate Archive has informed Ellis's thinking throughout the project.
Ultimately Return to Ritherdon has created opportunities for an artist and a manufacturer to witness each other's work in the factory, studio, gallery and respective communities. Site-responsive works are being developed for the exhibition at Castlefield Gallery which will continue this process, connecting the factory and the gallery space and sharing the project with wider audiences.
Castlefield Gallery has supported and followed Ellis's work over several years. She has taken part in numerous exhibitions at the gallery including: LAUNCH PAD: Meanwhile See This(2012) , Nicola Ellis & Aura Satz(2013) and Oh, it is easy to be clever if one does not know all these questions continues at DOX Centre for Contemporary Arts(2018). In 2019 we celebrated our 35th anniversary with the exhibition No Particular Place to Go? 35 years of sculpture at Castlefield Gallery which included work by Ellis and later that year we took her work to the Manchester Contemporary Art Fair where Dead powder series: Yellow, (2019) was selected by The Manchester Contemporary Art Fund for acquisition into the public collection of Manchester Art Gallery, where it will go on display later this year. 
Special thanks to: the Ronnie Duncan Art Foundation and Castlefield Gallery Commissioning Patron Prof. Chris Klingenberg.
Donors to The Manchester Contemporary Art Fund include Christian Anderton, James & Katie Eden, Pablo Flack, Mark Garner, Mark Hawthorn, Thom Hetherington & Sophie Helm, Alison Loveday, Jeremy & Jane Roberts, Howard Ratcliffe, Andy Spinoza, Martyn Torevell, and David Waddington.
1 March 2020 — 1 November 2020
Soft Bodies will be our reopening exhibition. We are looking forward to welcoming the visitors to the show when we resume our regular opening hours in  September 2020.
Soft Bodies features the work of artists; Emma Cousin, Stine Deja, George Gibson, Aliyah Hussain and Anna Bunting-Branch (Potential Wor(l)ds), Robin Megannity, Sadé Mica, Jake Moore and Semi Precious, Sam Rushton, Megan Snowe, Xiuching Tsay.
The exhibition takes its title from Soft-body dynamics, a field of computer-generated graphics which creates simulations of soft materials such as muscle, fat, hair, vegetation and fabric. The increasing availability of this kind of software has given artists new tools to make work; manipulating 'digital clay' in limitless space. These 3D digital works are however primarily experienced via the flat surface of the screen, as still or moving images. This may prompt questions about the contribution these works make to how we experience, understand and imagine our bodies. Do these smooth interfaces ultimately leave us feeling distanced and disembodied – and is that necessarily a bad thing? 
This exhibition places works made with these digital technologies alongside photography, painting, drawing, and print in order to consider the shared limits and potential of these mediums. In particular their ability to call forth worlds beyond their two dimensional surfaces. With figurative and abstract, actual and virtual content, Soft Bodies explores how these works might inform our experience of being in a body, with its own insides and outsides, boundaries and internal worlds. In places the exhibition points towards experiences of the body that exist beyond everyday language, considering the speculative potential of these works to inform our understanding of the body in relation to politics, technology, the image, gender, race, sexuality and the future.
To find out more about Soft Bodies, you can download our exhibition handout here which includes images and links to video pieces in the show. Soft Bodies artist George Gibson's book 'Other Kin', is also available to download here.
We have also commissioned a Soft Bodies episode of artist Emma Cousin's podcast 'Chats in Lockdown'. For this episode, available here: Anchor, Spotify, Emma Cousin has invited writer Rajesh Parameswaran (author of I Am an Executioner: Love Stories (2013) described by The Washington Post as "the advent of a genuinely distinctive voice in American fiction"), and fellow exhibiting artist Megan Snowe, to join her for a chat in lockdown. Their conversation takes the Soft Bodies exhibition as a starting point as well as the restrictions and changes to our daily activities caused by Covid-19, such as the increasing presence of video conferencing in our lives. The discussion takes places via the internet between London and New York and covers subjects including the disembodying and embodying nature of technology, the removal of things from the body, phantom limbs, body trash and the potential of inhabiting our non-flesh-based erogenous selves. 
Following their discussion Rajesh Parameswaran has written a short story which is available to download here. Copyright 2020 Rajesh Parameswaran. All rights reserved.
To read more see Sara Jaspan's article for Creative Tourist and Castlefield Gallery curator Matthew Pendergast's contribution to Shuttered: Short Reflections on Closed Exhibitions for Corridor 8. 
Curated and produced by Castlefield Gallery.
With special thanks to Commissioning Patrons Jo and Allan Melzack.
Castlefield Gallery Exhibition Supporters
Image: Jake Moore and Semi Precious 'Other Life' (2019) film still.
21 May 2020 — 21 May 2021
The Naming of Things: a group exhibition curated by Castlefield Gallery Associate Bryony Dawson
The Annotated Reader: A publication-as-exhibition and exhibition-as-publication conceived by Ryan Gander and Jonathan P. Watts
Originally planned to be exhibited at the gallery in May 2020, due to Covid 19 they have been rescheduled for 2021. 
To mark the occasion of what would have been their public preview our curator Matthew Pendergast invited Bryony and Ryan to share some questions and thoughts with each other for a podcast available HERE.
You can also listen to it on Spotify. 
______________
The Naming of Things features the work of: Sriwhana Spong, Lydia Davies, Jeanne Constantin, Sarah Tripp, James McAleer and Bryony Dawson, Charlie Godet Thomas and Jessica Higgins. 
Language has always been in a state of flux, but the acceleration of change led by new media platforms and formats dramatically changes the way that language is written, read and understood. The artists chosen for this exhibition embrace this unreliability by using and mis-using language as a way to imagine architectural spaces and alternative viewpoints. With works involving text, audio, sculpture and film they explore the semiotic relationships between images, sounds and words. 
The Naming of Things was selected from proposals submitted by Castlefield Gallery Associates by guest selector Ryan Gander and Castlefield Gallery Curator Matthew Pendergast. 
The Annotated Reader 
Imagine you've missed the last train. Is there one piece of writing that you would want with you for company in the small hours? Perhaps this text transformed your thinking. It might be a mantra continually returned to. Perhaps it is a text you felt should be read by younger generations or that you wish you'd encountered as a student.
Artist Ryan Gander and critic and writer Jonathan P. Watts put this question to a range of creatives, artists, academics, writers, musicians, and designers, inviting them to suggest such a piece of writing and then annotate it. The annotations add a further layer to the texts, demonstrating and suggesting ways of reading, displaying thought, complicating the relationship between image and text, reading and looking. 
With almost 300 contributors including Marina Abramović, Art & Language, Paul Clinton, Tom Godfrey, Ragnar Kjartansson, Sarah Lucas, Alistair Hudson and Hans Ulrich Obrist it forms an educational resource that can be used as a teaching aid for future generations. The Annotated Reader is a curriculum, an index and an ethics
07/03/2020
We are pleased to share news of another installation of the 'Conversation Series II – Other Transmissions' project which was … Read more