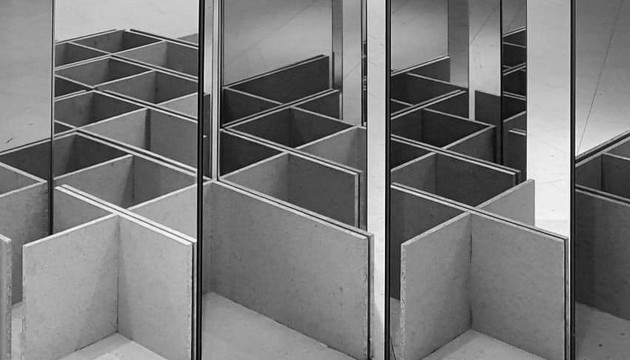 19 September 2020 — 24 December 2020 / 11am - 5:00pm Mon - Sun
We are pleased to announce that Castlefield Gallery Associate Nicole Prior has created a new work to occupy the windows of Castlefield Gallery New Art Spaces Wigan. The work has been commissioned by Castlefield Gallery and funded by Wigan Council as part of their cultural manifesto The Fire Within which launches its second phase this Saturday. The theme for 2020 – 21 is Digital Wigan and includes the exhibition We Will Always Be Together, curated by Al and Al, which explores a world where digital technologies have become more important than ever.
Data Rooms is inspired by the widespread but often unnoticed presence of surveillance technologies in the places we live and the electronic devices we use. Using security cameras, screens, projectors, mirrors and software patches, this work reflects back to us images of ourselves and others, and considers how interacting with different kinds of technology might affect our behaviour.
Councillor Chris Ready, cabinet member for communities and culture said: "In line with the borough's cultural manifesto, The Fire Within, we're committed to ensuring everyone can access arts and culture. It's great that we can combine this ambition with the currently vacant Marks and Spencer unit in The Grand Arcade by working with Castlefield Gallery to occupy the space temporarily. We look forward to seeing how they will make the space their own and encourage members of the public to get involved. We're also excited about the prospect of Castlefield Gallery complementing our new arts show in The Galleries, which visually explores how digital technologies have become instrumental parts of our lives."
Data Rooms will be installed in the window spaces of Castlefield Gallery New Art Spaces Wigan, a former Marks & Spencer store (11 Standishgate, Wigan, WN1 1UE) in two locations one facing Standishgate next to Caffe Nero and the other inside the Grand Arcade opposite Costa Coffee. If driving, you can park at the Grand Arcade Shopping Centre – all details including address here.
Please Note: No camera footage from this work will be recorded, all the data is shown in real time and will not be stored on any devices.
Data Rooms has been Commissioned by Castlefield Gallery and supported by Wigan Council
5 December 2020
Our next exhibition Obstructions was due to preview on Saturday 21 November and open to the public fully on 22 November 2020.  In line with the national COVID-19 lockdown, Castlefield Gallery will now remain closed until the restrictions are lifted.
We hope to be able to preview Obstructions on Saturday 5 December, and open the exhibition to the public fully from Sunday 6 December 2020. However we will need to await confirmation from the government on that nearer the time.
---
Join us to celebrate the opening of Obstructions at Castlefield Gallery. This private viewing is also an opportunity for visitors to the gallery to come along on a day when we are operating pre-booking, especially for those who would prefer to attend during pre-booked slots as opposed to dropping in.
Artists: Heather Bell, Maya Chowdhry, Tara Collette, Alena Ruth Donely, Jack Doyle, Jane Fairhurst, Sarah Feinmann, Tina Finch, Sabrina Fuller, Parham Ghalamdar, Claire Hignett, Paddy O'Donnell, Chris Rainham, Katie Tomlinson, Ian Vines
Earlier this year, Castlefield Gallery invited 15 artists from the North West of England to re-make an existing piece of their work with one condition: they had to accept a bespoke 'Obstruction' given to them by another artist in the exhibition. Inspired by a long history of artists using self-imposed restrictions to aid creative or free thinking, it also riffs off the restrictions and disruptions caused by COVID-19.
Selected from Salford Scholars who are supported by University of Salford Art Collection, Castlefield Gallery Mentees from Manchester School of Art, and the gallery's bOlder programme, all the artists are either under 30 or over 50 years of age, creating the opportunity to foster a conversation between two distinct generations. At a time when perceptions of different generations may be fraught with misconceptions, this process has enabled them to learn from each other.
Obstructions is supported by Great Place GM, an action research programme led by Greater Manchester Combined Authority and funded by the Heritage Lottery Fund and Arts Council England.
Book your tickets here
You can find more information about Obstructions here
You can find out more about Castlefield Gallery's future exhibition programme to November 2021 here
You can also find more information about our covid safe measures here
Image: Heather Bell, Drowning in supplies (2020).
05/12/2020
Our next exhibition Obstructions was due to preview on Saturday 21 November and open to the public fully on 22 … Read more
27/03/2021
Please note: the galleries will be closed for the Easter Bank Holiday Weekend from Friday 2 – Sunday 4 April … Read more
15/10/2020 / 6:00 - 7:30pm (online, via zoom)
The event will begin with an introduction to Emma Cousin's work where the artist will talk through her process, themes, … Read more