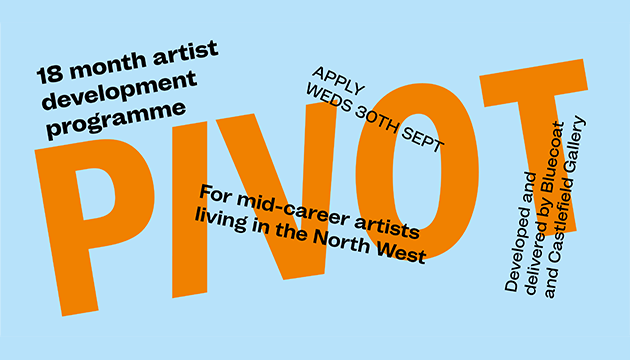 Posted on 9 September 2020
Castlefield Gallery and Bluecoat are delighted to announce PIVOT: an 18 month development programme for mid-career artists living and working in North West England.
PIVOT is a new artist development scheme delivered in partnership by Castlefield Gallery, Manchester and Bluecoat, Liverpool.  Both organisations share the vision that the North West of England is a place where artists are able to live and work whilst experiencing national and international success.
Five mid-career contemporary visual artists will be awarded a £5000 bursary and given access to a programme that supports their practice over an 18 month period.
PIVOT recognises that existing artist development support is dominated by earlier work opportunities for UK artists. We are inviting artists who have over five years experience and demonstrate a strong track record in the field of contemporary visual art to apply by open submission. The selection panel includes artists Simeon Barclay (Leeds) and Chara Lewis (Manchester) with curators from Bluecoat and Castlefield Gallery, and a representative from funder Brian Mercer Trust.
Applications are open from 10 September 2020. The five PIVOT artists will be appointed in early October 2020. PIVOT will support the participating artists with bespoke strands, tailored to each individual's needs, including specialist mentoring. The artists will engage in a core development programme that includes 1-2-1s with the PIVOT team at Bluecoat and Castlefield Gallery, group crit and Creative Professional Development sessions, artist coaching, specialist communications advice and peer learning.
The programme was conceived before the COVID-19 outbreak and developed under lockdown; both organisations believe the PIVOT programme and its aims, are more relevant than ever. Conversations and exchange will initially take place on-line to adapt to the current times, with the idea that meeting together will become possible at a later date.
Closing date 30 September 2020, 12pm. To apply, you can find the application form here, and application guidance here, or in the Downloads section of this page below.
Enquires to pivot@thebluecoat.org.uk
PIVOT is supported by: Brian Mercer Trust, The Fenton Arts Trust, The Granada Foundation, Estate of Fanchon Fröhlich, Castlefield Gallery Commissioning Patrons.
Bluecoat and Castlefield Gallery funders:
GALLERY DOWNLOADS
RESOURCES
PRESS