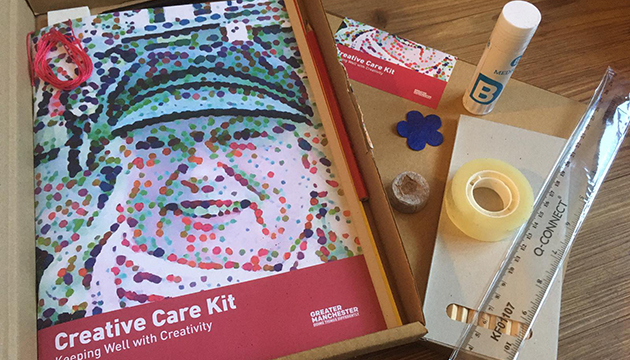 Posted on 10 June 2020
Since the start of the COVID-19 lockdown, Castlefield Gallery has been working with the Greater Manchester Combined Authority, arts and cultural sector providers, charities, and businesses from across Greater Manchester to support thousands of young and older people during the COVID-19 pandemic.
In June 22,000 Creative Care Kits were distributed to young people who are not online, and so may be feeling more isolated and lonely during this difficult time. Each kit contained 36 pages of activities, hints and tips on protecting your mental wellbeing and a set of art materials matched to the activities. By working with local authorities and education providers, the kits have been distributed to young people aged between 13 and 20, who may be struggling with their mental health, or might be a care leaver, a young carer or not in education, employment or training.
For the young people Creative Care Kits Castlefield Gallery commissioned artist George Gibson to develop a Publish Your Own Zine activity and donated our kits to Castlefield Gallery partners Venture Arts to share with the young people they work with. If you fancy having a go yourself, whatever your age, you can download George's activity sheet here and the full 36 page book full of ideas, activities and tips to support wellbeing here.This resource is free to use and particularly relevant to young people, families and those who support young people.
This July creative kits full of things to do are being delivered to 16,000 older people across Greater Manchester. For this phase of the kits Castlefield Gallery's bOlder artists have got involved, including the kit cover art work being developed by Tina Finch, and Jack Doyle being commissioned to create a line drawing activity, Let's Take a Line For A Walk. You can download Jack's activity here.
Castlefield Gallery also commissioned and contributed a visual score postcard activity inspired by our Together We Move programme, with further Together We Move activity sheets available here. We are now busy preparing to distribute Creative Care Kits to our Greater Manchester over 60s 'Together We Move' participants and looking forward to seeing the results of their creative endeavours!  
Even as restrictions around coronavirus continue to lift in England, many older people still face the prospect of being isolated at home for many weeks, particularly those who do not have access to the internet. The most recent iteration of the Creative Care Kits contains art materials matched to more than 40 pages of activities from 25 organisations and groups. Activities include music, writing, craft, horticulture and drawing. The full Creative Care Kit for older people can be downloaded here.
The Creative Care Kits have been made possible with the generous support of: Arts Council England, National Heritage Lottery Fund, Paul Hamlyn Foundation, Curious Minds, Young Manchester, Trafford Housing Trust, National Lottery Community Fund and Ambition For Ageing.
With additional support from: Banner UK, Elixir Gardens Supplies, Modern Designers, A34, TG Nuttall Packaging , Mint Copies, Salford Design Studio and the University of Salford.