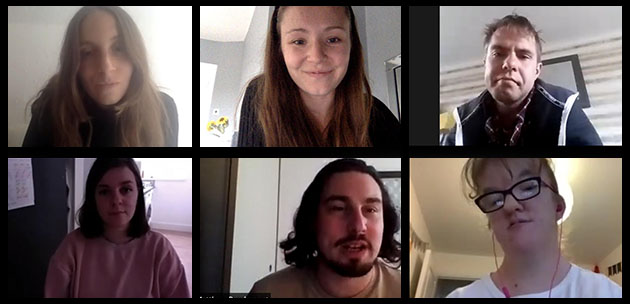 Posted on 12 June 2020
Despite the temporary closure of our premises due to the covid-19 pandemic, we are continuing to work with long-standing partner Venture Arts (an award-winning visual arts charity based in Hulme, Manchester, who envision a world in which people with learning disabilities are empowered, celebrated and valued in the arts and society). Both organisations share a commitment to supporting artists, volunteers and staff during this time and we are finding ways to do this within lockdown restrictions.
This partnership has been at the heart of much of our work in recent years and last year together with The Whitworth we were recognised at the Manchester Culture Awards with the Inspiring Innovation award. Our partnership with Venture Arts is a vital part of our artist talent development, public programmes and our contribution to Arts Council England's Creative Case for Diversity.
Following Volunteers Week (1 – 7 June ) and coinciding with Small Charities Week (15 – 20 June ), Castlefield Gallery is part of Venture Arts Cultural Engagement Programme. Volunteers occupy a central place in this programme and are also an integral part of Castlefield Gallery's activity.
Venture Arts and Castlefield Gallery are small charities which never stopped working hard during lockdown. We are supporting artists, curators, writers and volunteers to stay connected and continue to develop their practice.
If you would like to help our ongoing programmes, supporting artists to make new work and share it with the public. Please follow the links to donate below.
Use the reference 'Venture Castlefield' if you would like your donation to go towards joint activity between the organisations.