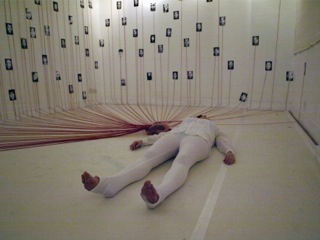 Posted on 7 August 2012
Castlefield Gallery is delighted to be a co-producer of Emergency 2012.
Word of Warning presents Emergency.  Artists working in live art, contemporary performance, time-based media and interdisciplinary arts are invited to submit proposals of short pieces of work, works in progress or extracts of longer works for inclusion in this event. Proposals are also encouraged for durational, one to on, limited capacity work, performance installation and works which inhabit the journey between the spaces.
Coinciding with The Manchester Weekender 2012, Emergency will take place between Castlefield Gallery, BLANK MEDIA and Z-arts on Sat 13 Oct from 12 noon to 10pm
The event's objectives are to be:
a free public micro-festival;
an opportunity for artists to meet, show and peer review work;
a selection events for a number of small Works Ahead commissions to be developed & supported by hÅb;
Work can be in any relevant artform/medium, though some live presence is desirable.
Selection will be by a panel consisting of Tamsin Drury and John Franklin of hÅb, Clarissa Corfe of Castlefield Gallery and John Leyland of Blank Media Collective.
For more details and to download an application form visit emergencymcr.org
Word of Warning presents Emergency produced by hÅb, Castlefield Gallery and Bank Media.
This event is part of  The Manchester Weekender, 11-14 October 2012: A city's worth of art and culture in one weekend.
Deadline for submission: Tues 28 Aug 2012