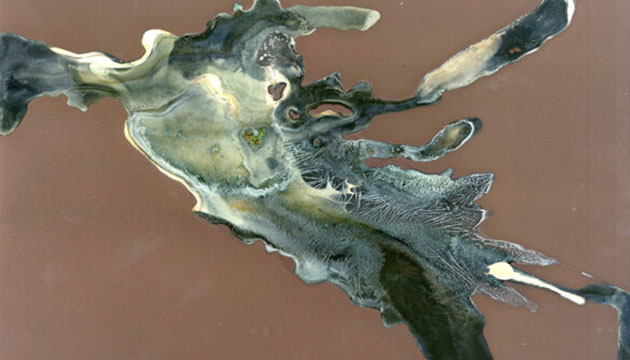 25 May 2021 / 6:30pm-8:30pm
We're delighted to welcome Hannah Fletcher to present this very special practical workshop for our Castlefield Gallery Associate Members programme.
In this live online workshop London-based artist Hannah Fletcher, founder of The Sustainable Darkroom and Co-director of London Alternative Photography Collective, will guide participants through how to use a use a natural plant-based developer to make chemigrams, a form of camera-less photograph that can be produced in the light.
Starting with an outline of what a chemigram is, Hannah will demonstrate the use of various chemicals and ingredients that can be found in your kitchen cupboards. Participants will then be guided through a range of methods of application using these natural chemicals to create various effects, patterns and tones.
Hannah Fletcher's work intertwines organic matter such as soils, algae, mushrooms and roots into analogue photographic mediums and surfaces. She does this while simultaneously exploring environmentally and ecologically-focused issues. Working in an investigative, pseudo scientific and environmentally conscious manner, Hannah combines scientific techniques with photographic processes, creating a dialogue between the poetic and political.
***IMPORTANT***
This workshop will take place across Zoom and each participant is required to source the following equipment ahead of the session.
Essential materials:
– weighing scales
– 5 grams Vitamin C (ascorbic acid) – powdered is best, but if you can't get hold of it, then 50g tablets will also work
– 10-15 sheets Silver Gelatine or colour photographic paper (old, expired or fogged works just as well)
– Washing Soda (otherwise known as Sodium Carbonate or Soda Crystals)
– 150 grams photographic fixer or Sodium thiosulphate / aquarium dechlorinator
– 5 x watertight trays large enough to hold your photographic paper  (old Tupperwares can also be used, but make sure you don't use them for food after)
– a pair of gloves or tongs
– spoon or stick for mixing
– 40 grams of soft plant matter (weeds or herbs are a good choice eg. nettles, wild garlic, dandelions, mint, nasturtiums)
– empty jam jar
Additional Materials*:
*gather any of these materials that you can find around your house, there is no need to have them all, but a selection of things from the list or other things you find to experiment with during the workshop will be good.
Resists: Tapes, glues, varnish, flour paste, syrups, jams, spreads, clay, wax
Natural/alternative chemicals: syrups, oils, jams, spreads, vinegars, natural dyes, juices, wine, clay, earth, urine, blood, sea water, any household ingredients
Methods of application: paint brushes, sponges, rags, hands (gloved), spatulas, breath (blow through straw for more control), plants / twigs, spray bottle, stamps.
Image: Hannah Fletcher – Algology: The Art of Scientific Curiosity (2016)