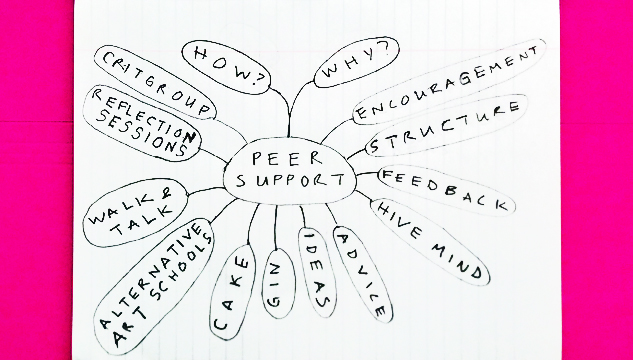 29 January 2019 / 18:30-20:30
A Castlefield Gallery Associates event
Please join us for a Castlefield Gallery Associates taster session on peer support for artists.
Peer support groups can contribute to an artist's ability to keep on keeping on. They can provide not only critical feedback to help with the development of artistic practice but also practical assistance and a hive-mind of knowledge when it comes to borrowing equipment, hiring spaces and new ways of making things.
This practical session led by artist Chloe Cooper with input from representatives of local groups will:
– cover the practical pros and cons of peer support groups
– share different formats of support
– suggest models for providing artist-centred critical feedback
– encourage attendees to start setting up a peer support group together
Attendees are asked to bring a digital image/recording of a recent piece of artwork that they would like feedback on. Please bring a phone/iPad/print out to use to show your artwork as you'll be doing this in small groups of 4 or 5 and groups will be working simultaneously.
Chloe Cooper is an artist and educator. She has been a member of several peer support groups and has run peer mentoring workshops with Artquest as part of New Contemporaries public programme at the Baltic (Newcastle), Backlit (Nottingham) and the ICA (London).
As a taster session for Castlefield Gallery Associates this event is open to all; to attend, please register at https://peersupport_chloecooper.eventbrite.co.uk