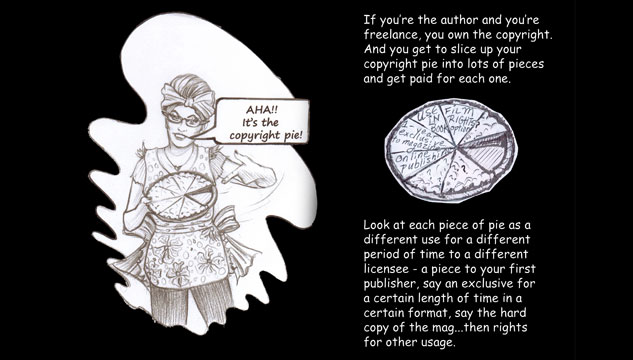 25 July 2017 / 18:30-20:30
For CG Associates members only
Hope London is an arts consultant, practicing artist and former IP lawyer (now recovered) with a special interest in visual and public art. Now based in rural Scotland, she is focussed on her own art and music as well as a range of community projects – most recently with Helix Arts in Newcastle, where she is developing an arts-based prison education programme following their previous collaboration that won a national Koestler Award in 2016.
Hope has taught on the MA in Creative and Media Enterprise at Warwick University since its launch in 1999. From 1998 to 2002 she was Director of Castlefield Gallery. Projects include the Spring Fling Mural in Glasgow, If These Walls Could Talk at the Carlton Arms Hotel, New York and the adventures of M Contraband Esq, Punk Lawyer: graphic novelettes about art and law, including interviews with Martin Creed and David Mach
"I'm an artist, it's the core of my being. But there's another dimension to my work – legal issues that affect artists. In the 1970s as a founding member of the first co-operative gallery in Queens, New York, I negotiated a lease and drafted a membership agreement – long story, leading to a law degree from NYU and fellowship in copyright law. Since then I've negotiated contracts for artists; handled business affairs for a feature film; had years of experience training, consulting, writing, lecturing in arts management (Liverpool Institute for Performing Arts; University of Warwick).  My work has evolved and is now centred on community projects, murals, painting/drawing and writing/performing…and knowledge of the law continues to be invaluable."
Also, people can follow my current projects on FB pages Hope London Music and Hope London If These Walls Could Talk.
The session will give an overview of the intellectual property issues artists need to be aware of, including:
Basics of copyright – what are your rights and how to enforce them
The implications of joint authorship
Collecting royalties
Social media
Licensing
Moral rights
Contracts, and what to look out for
Trademarks – registered and non-registered trademarks
Artists' resale right
Resources such as DACS and Own-It
https://www.facebook.com/hopelondonifthesewallscouldtalk
https://www.facebook.com/hopelondonsingersongwriter/