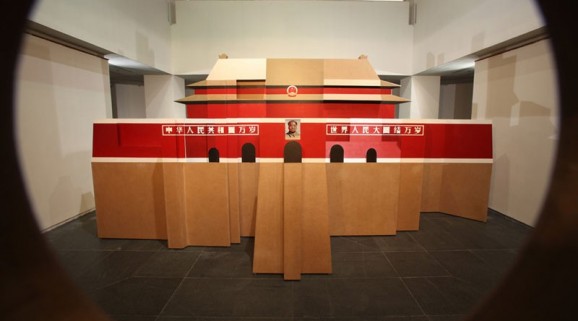 27 September 2014 — 23 November 2014
Responding to the Asia Triennial Manchester 14 (ATM14) theme of 'conflict and compassion', this exhibition will be seen from an international perspective, re-examining the 'conflicts' as well as the 'harmony' of China, or indeed, the Greater China, and that of Asia and the world.
In the past three decades, Mainland China has experienced unprecedented political reform, economic development and rapid urbanisation. This upheaval together with all its consequences – including the Handover of Hong Kong – has amalgamated into daily life. The international press report many social issues and challenges in and beyond the country including Cross-Strait and international relations. Responding to ATM14's theme, 'Conflict and Compassion', the curatorial focus of the CFCCA project apparently presents 'no conflict' but rather, almost poetically, a 'harmonious society' (hexie shehui). In this exhibition, 'Harmonious Society', is re-interpreted in Chinese instead as 'tianxia wushi', literally, 'nothing (has happened) under the heavens'. The title, precisely, is derived from the current socio-economic vision and the political proposition of China's regime since 2005, whilst its Chinese version alternatively extends its cultural and philosophical connotations to be perceived in the global context (tianxia).
The project invites more than 30 artists from Mainland China, Taiwan and Hong Kong to develop artistic responses. Almost all the works are UK premieres and many of them are specially commissioned and site-specific. It takes place at six major venues across the city centre of Manchester, including Centre for Chinese Contemporary Art, ArtWork, John Rylands Library, Museum of Science and Industry, National Football Museum and Manchester Cathedral.
Harmonious Society is produced in collaboration with Taiwanese Ministry of Culture, Tang Contemporary Art (Beijing, China) and University of Salford for ATM14. It is also supported by Cathay Pacific, Birmingham City University, Hong Kong Arts Development Council, T Museum, Taipei Department of Cultural Affairs, Manchester City Council and Salford City Council.
It is expected to be a platform for audience, artists and curators, to discuss this era of extraordinary social, ideological and cultural transformation, through their individual memories, personal reflections and imaginations, and to generate not only critical, but more importantly, creative thinking, and new understandings of our time.