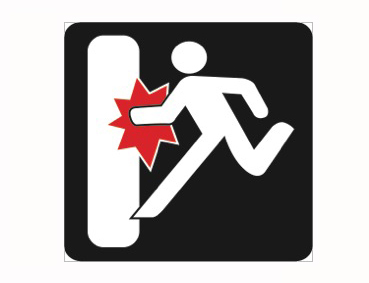 13 October 2012 / 12 noon - 5pm
Emergency, Manchester's marathon of the bizarre, the beautiful and the bold returns for its thirteenth outing popping up across three venues, with nearly 40 free pieces of live work.  Expect daytime installations, interactions and intimate experiences at BLANKSPACE and Castlefield Gallery, plus an evening of sit-down performance at Z-arts.
Performances throughout the day at Castlefield Gallery include:    Stephanie Douet, Real/No-Real    |    Qasim Riza Shaheen, Misplaced Memoirs    |    PK Fiskulturnik, Yugo yoga: the long march    |    Liam Herne, Bare    |    Platt, Birchall + Hussain, The Dreaming   
More:
Stephanie Douet, Real/No-Real
Follow the artist on screen and in person along mirrored pathways that suddenly turn upside down, through impossible forests of black paper, past looming geometric constructions. And just when you think you are getting your bearings, the artist remakes the landscape ahead of you.
Stephanie Douet exhibits sculpture, performance and installation at various UK venues including the De La Warr Pavillion, V&A, Outpost Norwich, Kraak Manchester and home London. She is currently exhibiting in Sinopticon at National Trust's Saltram House and Plymouth Museum. Douet also co-curates the Queen of Hungary Project Space. www.stephaniedouet.co.uk
Qasim Riza Shaheen, Misplaced Memoirs
Qasim Riza Shaheen invites you to step into his world and experience his declarations of love and desire.
Qasim Riza Shaheen is a British artist based in Manchester with an international repertoire. His work has been presented at prominent venues and festivals throughout the United Kingdom, including at the Victoria and Albert Museum, London; the National Review of Live Art, Glasgow; the Liverpool Biennial; and British Dance Edition. Internationally, Shaheen's work has been programmed as part of several film festivals; British Council's showcases of live art in Denmark, Spain and Belgium; and at numerous art museums and galleries in Pakistan, India and in the USA. His art works have been acquired by museums and collectors internationally. www.qasimrizashaheen.com/
PK Fiskulturnik, Yugo yoga: the long march
Increase personal flexibility, reduce social tension and gain moral strength by joining PK Fiskulturnik in the long march to socialist self- realisation through Yugo yoga.
Yugo yoga : the long march is a durational performance piece inspired by physical yoga and poses from redundant revolutionary sculptures, created and performed by Lara Ritosa Roberts aka PK Fiskulturnik. Coined from 'Yugoslavia' – the country of artist's birth that no longer exists – and 'yoga', the union, this performance revisits European communist cultural heritage whilst drawing a parallel between a real physical effort and determination of spirit.
Viewers are invited to join in at any point of performance and experience first-hand the act of live art embodiment.
Performed as both solo and a group piece in a variety of settings, Yugo yoga… has featured at many art events in the UK and abroad most notably at Tate Britain (2010), Museum of Yugoslav History, Belgrade, Serbia (2011) and Whitstable Biennale (2012).
Lara Ritosa Roberts is a Croatian born, UK based visual and performance artist. She obtained an MA in Fine Art from Central Saint Martins College of Art & Design in 2007, and has also trained as a sculptor and as a physical theatre performer. In 2007, Lara founded Performance Klub Fiskulturnik, an international collaborative live art project.
Liam Herne, Bare
Liam Herne will be dressed as a bear and shaving himself.
Liam Herne is a mixed media artist. He usually presents his work in the mediums of video, photography and performance. He was born in Watford, Hertfordshire and has lived there most of his life. He currently works as an art and photography teacher. www.liamherne.moonfruit.com
Platt, Birchall + Hussain, The Dreaming
Myth of creation and how it all began.
By Rebekka Platt in collaboration with David Birchall + Aliyah Hussain.
Rebekka Platt graduated from Salford University in 2010 and has worked with a range of artists from different disciplines: choreographer Saju Hari, musician and visual artist Goran Vejvoda, musician David Birchall, Volkov Commanders, Edwina Ashton and Genevieve Say.   www.rebekkaplatt.co.cc
Aliyah Hussain graduated from Manchester Metropolitan University in 2009. She has a range of experience in performance and exhibitions such as Triptych, curated by Laura Mansfield, 11 rooms with Marina Abramovic and Joan Jonas, and Panoply performance piece, Kraak Gallery and Sounds from the other city.  www.aliyahhussain.co.uk
David Birchall started playing the guitar in 1994 and has continued to ever since, gigging and touring extensively with a variety of groups in the UK, France, Holland, Germany, Spain, Portugal, Czech Republic, Austria, Switzerland, Italy, Palestine and Denmark. He consciously locate's improvisation at the core of his musical work.   www.davidmbirchall.com
Supported using public funding by Arts Council England, and by Salford University, Dance Initiative Greater Manchester and Manchester Dance Consortium.
For more information about Emergency and all of the performers and performances taking place across the three venues go to www.wordofwarning.org
Emergency is presented by Word of Warning, produced by hÅb with Blank Media Collective, Castlefield Gallery and Z-arts.
Emergency is part of the arts and culture event The Manchester Weekender: A city's worth of art and culture in one weekend from 11 – 14 Oct.