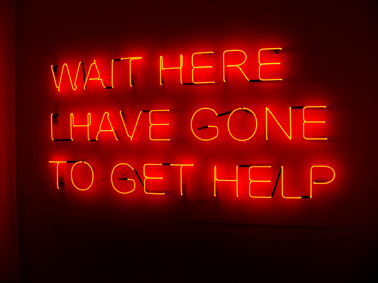 20 March 2013 / 6-9pm
Castlefield Gallery is excited to be working with Quays Culture to programme a series of six presentations that will inspire creative practitioners based in Greater Manchester and beyond.
The series of six 3-hour long events will feature nationally and internationally renowned creative people and organisations from a selection of the most dynamic creative practices including acting, animation, art, moving image, performance and creative writing. Through the presentation of case studies the speakers will highlight some of the many diverse routes to developing careers in these exciting and creative disciplines.
Live Art and Acting
Join us on Wed 20 March, 6-9pm at the Digital World Centre 1, (next to the Lowry Art Gallery and Theatre) to hear performance artist Tim Etchells, who since its inception in 1984 has led the acclaimed performance group Forced Entertainment alongside alongside Darren R L Gordon Artistic Director and Actor Trainer of acting school DNA Performance Resource to hear about the different avenues open to people wanting to develop a career in live art and acting.
Tim Etchells (1962) is an artist and a writer based in the UK. He has worked in a wide variety of contexts, notably as the leader of the world-renowned performance group Forced Entertainment and in collaboration with a range of visual artists, choreographers, and photographers. His work spans performance, video, photography, text projects, installation and fiction.
In recent years Etchells has exhibited widely in the context of visual arts, with solo shows at Gasworks and Sketch (London), Bunkier Sztuki (Krakow) and Künstlerhaus Bremen. His work has appeared in the biennales Manifesta 7 (2008) in Rovereto, Italy, Art Sheffield 2008, Goteborg Bienale (2009), October Salon Belgrade (2010), Aichi Trienale, Japan 2010, with Vlatka Horvat and Manifesta 9 (Parallel Projects) 2012. Selected group shows include Arnolfini (Bristol), Anthony Reynolds Gallery (London), Netherlands Media Art Institute (Amsterdam), MUHKA (Antwerp), Galleria Raffaella Cortese (Milan), Sparwasser HQ (Berlin), MACBA (Barcelona), The Centre for Book Arts and Exit Art (New York) and Kunsthaus Graz.
Etchells' first novel The Broken World was published by Heinemann in 2008 and his monograph on contemporary performance and Forced Entertainment, Certain Fragments (Routledge 1999) is widely acclaimed. A publication based on his 2011 online project Vacuum Days was recently published by Storythings. Etchells was Legacy: Thinker in Residence (2009-2010) at Tate Research and LADA in London and Visiting Honorary Professor, School of Arts, Roehampton University (2010-2012) and Professor of Performance at Sheffield University 2011-2012. In 2013 he became Professor of Performance at Lancaster University.
Darren R L Gordon is the Artistic Director and Actor Trainer of DNA Performance Resource, and established Acting School based in the heart of Manchester. DNA offers tutoring, advice, and support for actors of all levels, delivered by experienced industry practitioners.
Artists that the company has worked with are currently making huge strides in a number of different areas of the 'Industry', not least in notable television and film productions such as: Hellboy 1 & 2, The Wolfman (Universal Pictures), Waterloo Road, Paradox, Emmerdale, Clash of the Titans, Doctors, Casualty, Doctor Who, Occupation, The Street, Ideal (BBC Television) Moving On, Unforgiven (Red Productions), Life on Mars, Spooks CODE:9 (Kudos), Father & Son, Coronation Street,, Clash of the Santas,The Royal, Heartbeat (ITV), Hollyoaks, Grange Hill (Lime Pictures), Father & Son, The Accused, Sherlock Holmes, Ghost Rider 2 – Spirit of Vengence, Upcoming Danny Boyle – Trance, Wrath of the Titans, Doctor Who, Upcoming Film – Will and Green Lantern. In terms of progression to HE study, DNA's clients have progressed to some of the country's top Drama Schools, Including RADA, East 15, Central School of Speech and Drama, Guildhall, Queen Margaret, Royal Scottish, Mountview, LIPA, Birmingham School of Acting, Guilford School of Acting, Arden School of Theatre, Manchester Metropolitan University, The University of Salford and many more.
Free / Booking essential.  Book tickets at eventbrite or phone 0161 832 8034
—
For further information contact Jennifer Dean, Communications and Audience Development Coordinator at Castlefield Gallery on jennifer@castlefieldgallery.co.uk or on 0161 832 8034
—
Quays Culture is a new arts programme based out of the Quays/MediaCityUK and aims to attract local and international talent to Greater Manchester audiences. They work with artists that use innovation and creativity for live and digital interactions. The world-class location and partners support a collaborative programme of arts festivals, events, new art works, learning and new fun experiences for all to join in.


Castlefield Gallery would like to thank Programme partners including: BBC North, Eccles Gateway Centre, Islington Mill, IWM North (part of Imperial War Museums), The Lowry, MediaCityUK, the University of Salford, Salford City Council & Trafford Borough Council.
​This Castlefield Gallery/Quays Culture programme is supported by