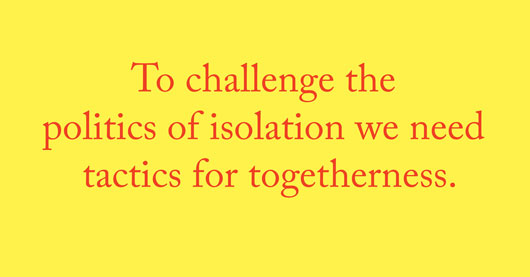 25 June 2019 / 18:30-20:30
For Castlefield Gallery Associates members only
Artist and film-maker Ian Nesbitt joins us to talk about his social art practice and about the Social Art Network (SAN), a UK-based community of artists committed to building agency for the field of art and social practice. In the context of ten years of severe austerity measures and a divisive political climate, the Social Art Network is interested in questioning what kind of society we want to live in and what roles artists can play.
In November 2018 SAN convened the Social Art Summit, an artist-led review of socially engaged arts practice in the UK which took place in Sheffield. The Summit brought together practitioners from around the country to share practice, discuss ideas and explore what it means to be making art through social engagement. Workshops, artist labs and presentations included Black Quantum Futurism: Reimagining the City by Rasheedah Phillips, Group Therapy for Social Practice Artists with Davina Drummond, Social Art: Diversity, Inclusion and Galleries with Harold Offeh and Ania Bas' card game helping players think critically about practice.
Following the Summit, SAN has been building a network of artists and testing ideas for the first ever Social Art Biennale, to be held in 2020. There are now regular Social Art meet-ups in cities including Newcastle, Stoke on Trent, Salford, Brighton, Nottingham, Sheffield, and London.
Ian Nesbitt is an artist, filmmaker and activist. Spanning interests in landscape politics, community self-organising, emerging social movements, and documentary film, his practice is openly collaborative, working with artists and non-artists alike. Focusing on exploring peripheral territories and working innovatively with marginal communities, he often uses walking or slow travel as a tool to open up personal and shared terrains. He recently completed a third feature-length film – 'Acts of Quiet Resistance' – and is currently artist-in-residence at Loughborough University for the 2018-19 academic year.
More information about Castlefield Gallery Associates: https://www.castlefieldgallery.co.uk/associates/
Image: Working Notes #3 – Ian Nesbitt, 2016