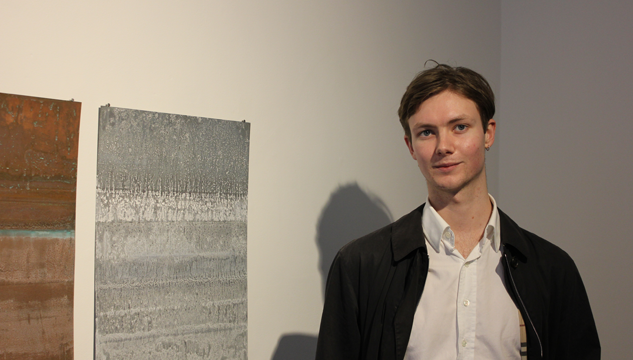 Posted on 7 March 2018
National Apprenticeship Week 2018 has officially launched and has brought together employers and apprentices from across England to celebrate the success of apprenticeships over the last decade and helped to encourage even more people to choose apprenticeships as route into a great career. To celebrate we have conducted a Q&A with our Digital Marketing and Communications Apprentice, Emil Margrain.
How did you come to start an apprenticeship at Castlefield Gallery?
While at university, my favourite areas of study were Philosophy of Language and Contemporary Art History. During this time, I quickly developed an appreciation for Art as a cultural playground, beautiful in how its ideas are continuously adapted and developed over time. Often audacious, challenging and with honourable goals, Art felt like a language with the power to change your life. After graduating, I started working as a Digital Marketing Intern at an arts and fashion website and began thinking about how spoken, written and visual communication can transform life into something more exciting.
When I saw that Creative Alliance had listed a Digital Marketing and Communications Apprenticeship position at Castlefield Gallery, I began work on my application immediately. Once it was finished, I sent it off with my fingers tightly crossed. I remember receiving the phone call telling me that I had been invited to an interview and feeling ecstatic that my application had got that far. The day of the interview was pretty terrifying. I really wanted the position and was feeling nervous. However, Jennifer Dean, the Gallery's Communications & Audience Development Coordinator and Helen Wewiora, the Gallery's Director quickly made me feel comfortable and speaking with them was a pleasure. The next day I heard that they wanted to offer me the position and I couldn't stop smiling.
What does a typical day at Castlefield Gallery look like?
The whole team works together to achieve the goals of the organisation – which are varied. This creates a fantastic environment for learning. Whether I am creating videos, images or social media posts to accompany our exhibitions programme, promoting an exhibition happening at one of the Gallery's New Art Spaces or working with our volunteers, there are always new learning opportunities. My position allows me to work with everyone in every department so no day is exactly the same.
What exhibition have you most enjoyed?
Since starting my apprenticeship in January 2018, I have have worked on three exhibitions; each exploring very different approaches to contemporary art practice. So far, the exhibition that has resonated most with me has been Launch Pad: Th-th-th-that's all folks! curated by recent Manchester School of Art graduates, Rhino. Rhino used the Launch Pad opportunity to turn the gallery into whole new world. The show was exciting, often humorous and felt like a celebration of creative thought. 
What do you like best about your job?
My favourite part of the job is seeing the results of the team's hard work. One day, I was working on the front desk when a visitor came into the gallery and fell in love with the Peter Hodgson retrospective, Making, A Life. After going through the gallery, she arrived at the front desk and straight away you could tell that the exhibition had really touched her. She was beaming and the feeling was infectious. Suddenly, I was face to face with what everyone in the gallery had been working so hard to achieve. To feel like I was in part responsible for this was inspiring.
What do you want to do after your apprenticeship?
I intend to continue to develop areas of expertise. I want to bring quality, ambition and the idea that if you want to make something happen there's almost always a way, to daring contemporary art institutions.
What advice would you give to someone who wants to start an apprenticeship?
Starting a career in an industry that excites you can be really hard but an apprenticeship can make that a lot easier. Not only will you be getting first hand experience of the day to day running of an organisation but you are also given learning opportunities and encouragement to grow. I'd recommend an apprenticeship in a heartbeat.